Protect Your Investment
Does Your GYM FLOOR Look Like This?  Avoid It With Gymnasium Floor Covers.
The gym floor is a communal practice ground for many athletes and gymnasts.  You should take additional measures to ensure that the floor is being protected from damage.  Maintain it regularly. With gym floor coverings from ACC, you can add a new layer of safety and protection for your floors. Gym Floor Covers come in several different weights. How often you will use it, and what types of activities you will use it for, determines the weight of material you need.
Why Should You Protect Your Gym Floor?
All weights of our gymnasium floor covers have: 
• 3-ply materials. Strengthened polyester mesh coated with PVC on each side.
• Lays flat and wrinkle free with either surface up. Welded seam to be as sturdy as the body itself.
• Anti-bacterial and anti-fungal. Rot and mildew resistant.
• Conforms to Golden State official, Hub of the Universe official, underwriters UL-214, and U.S. Military description. MIL-C-20696 necessities.
• Full warranties against material defects.
Covers From ACC – Why Choose Us?
Our gymnasium floor covers are fabricated to withstand heavy foot traffic, impact, shock and bad weather. They are made from extremely durable 3-ply PVC coated materials with a polyester mesh for durability. ACC gym floor covers are also fire retardant.
10' sections for easy handling, placing and removal
Resistant to water, rot, mildew, fungus and bacteria
Slip resistant gym floor covers for added safety
Affordably priced gym floor covers
With all these reasons and more, there is no doubt that you can rely on ACC for quality floor covers for your sporting facility.
Fully Deployed Gym Floor Cover
AFFORDABLE PRE-CUT GYMNASIUM FLOOR COVERS
Order pre-cut gym floor covers. Save time on ordering and shipping by picking a select size and weight for your order.  Specifications:
Tan or Royal Blue
18 oz., 22 oz., 27 oz., 32 oz.
In a rush? These pre-cut rolls get shipped faster than our regular floor covers!
Looking for a specific size or want to customize your order with graphics? Request a quote to get in touch with one of our representatives.
At All Court Covers, our main priority is to provide you with the best quality in every product. For more information on our protective gym floor coverings, get in touch with us today. You can either choose standard 10' x 100' sections or order customized sizes to suit your facility. Call us at 877-393-9726 for a quick price quote and more customization details.

ACC- Gym Floor Cover Fabric Specifications and Colors
Durable Product Substrates + Protective Coatings = Maximized Wear Time
Total Weight
32 oz.
27 oz.
22 oz.
18 oz.
10 oz.*
Product Warranty
17 yrs.
15 yrs.
10 yrs.
8 yrs.
3 yrs.
Tear Strength
(Warp x Filling) ASTM D2261
210 x 210
125 x 90
110 x 75
90 x 65
76 x 76
Tensile Strength
(Warp x Filling) ASTM D5034
375 x 360
315 x 300
295 x 285
280 x 270
495 x 340
Adhesion
ASTM D751
35 lbs.
35 lbs.
35 lbs.
35 lbs.
N/A
Flame Resistance
(Self-extinguishing Fed Std 191 method #5903)
PASS
PASS
PASS
PASS
PASS
ACC- Gymnasium Floor Cover Colors (actual colors may vary)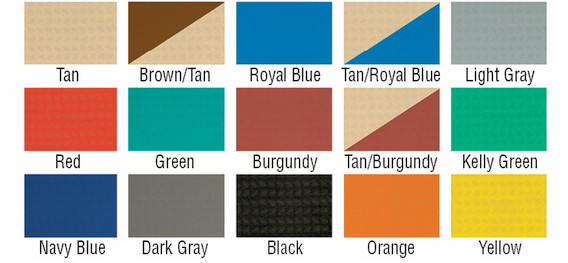 | | | | | | |
| --- | --- | --- | --- | --- | --- |
| Available Stock Colors | 32 oz. | 27 oz. | 22 oz. | 18 oz. | 10 oz.* |
| Tan | X | X | X | X | |
| Brown & Tan | X | X | X | | |
| Tan & Blue (Royal) | X | X | X | | |
| Tan & Burgundy | X | X | | | |
| Blue (Royal) | X | X | X | X | |
| Blue (Navy) | X | X | X | X | |
| Burgundy | X | X | X | X | |
| Black | X | X | X | X | |
| Green (Maple) | X | X | X | X | |
| Red | X | X | X | X | |
| Gray (Light) | | | X | X | X |
| Gray (Dark) | X | X | | | |
| Yellow | | | X | X | |
| Orange | | | | X | |
| Kelly Green | | | | X | |
Gymnasium floor covers are the perfect solution to protect your floor. Gymnasium covers are available in rolls. They are used to protect your gym floor from foot traffic, trash and liquids. Gym floor coverings very easy to install. They are just as easy to remove. To clean the gym floor cover pieces, just use a broom or mop for stuck on stains.
Description – Protecting your gymnasium floor from heavy foot traffic, scuffs, stains, furniture impacts and much more, vinyl floor covers are the perfect tool to keep your multi-purpose gym floor looking great for years to come. Great for graduations, proms, fundraisers and special events, these floor covers provide you with a slip resistant flooring surface that is not only fire retardant but one that is also rot, mildew, fungal, and bacterial resistant. These coverings are available in a number of colors and weights and can be cut to any desired length at no extra cost to you. With up to a 17 year warranty, our vinyl gym floor coverings have been built to last and are made easier to store and install with the use of a mobile storage rack.
What Ounce Cover Do I Need?
How To Determine Cover Size – Gymnasium Covers are constructed in 10' wide sections for easy handling. When figuring the size of the cover you need, we suggest adding 6"-12" for overlapping each section. For example, for a 65' x 90' floor, order 7 sections measuring 10' x 90' each.
How To Determine Cover Weight – Floor Covers are offered in several weights. Below are our recommendations for which weight will work best for your application.
18 oz. cover is best for 6 uses per year or less.
22 oz. cover is best for 6-12 uses per year.
27 oz. cover is best for 13-23 uses per year.
32 oz. cover is best for 24 uses or more per year.
Recommended Uses – Gymnasium Floor Covers have been used in multi-purpose gymnasiums for banquets, proms, graduations, concerts, special events, fundraisers, in high schools, grade schools, colleges, public arenas, and anywhere a protective floor cover is desired.
Call or Write us today for your free estimate. Protect Your Investment.